After conducting several telephone interviews about the participants' data use cases and making it through the fourth Dutch lockdown, we were finally able to organise an in-person session for the Hollandse Luchten community. It took place on the 22nd of February in Studio O, Beverwijk. In preparation for this session, we developed a co-creation method based on the public stack that would help us identify the most important ways to achieve each use case. This session also proved useful for recruiting participants as well as representatives from the Province North-Holland, the RIVM, and Smart City Haarlem to ensure that the output of this session would not only be relevant research material for our own purposes, but that it would also be taken up by the consortium and feed back into the Hollandse Luchten project itself. We ultimately welcomed over twenty-five people to Studio O. 
Mapping data use cases on the public stack
Previous interviews had revealed four main ways in which Hollandse Luchten participants would like to use the air quality data (which we refer to as 'data use cases'): knowledge sharing, policy change, personal insight, and transparency and accountability. In Studio O, we divided ourselves into four separate tables to discuss each data use case. To support these discussions, we asked the question: "If 'data use case x' is our goal, then what processes, people, and technology are needed to reach that goal?". To answer this question, we developed and used the 'public stack puzzle' method, which is available on the co-creation navigator. A summary of each thematic group's discussion is presented below:
Knowledge sharing
This table started at the top of the stack by identifying which people play a role in knowledge sharing. Hollandse Luchten exists thanks to our sensor hosts, so participants emphasised  that internal communication between participants must be in order before we tell our story to the outside world. The process identified to do this was through hosting recurring Q&A/data analysis sessions and putting out regular communication through blogs, videos, or weekly data reports. 
In terms of technology the mantra was, and I quote, 'Keep it Simple, Silly (KISS)'. Participants observed that the threshold is quite high for people to start using the forum or even a Google drive. They therefore recommended using messaging apps and sending out local news updates within the existing Hollandse Luchten communities. 
Policy change
The central question here was: "How do we bring citizen-collected data into the policy process?" The solutions at this table centred heavily around process. The priority is making a plan whereby: 1. the province (and other governmental institutions) make information about how policy is formed available to citizens; and 2. citizens can make explicit how they would like to influence that policy, after which it will be possible to identify areas for impact. Examples include the drafting of health and environmental norms, giving input into regional development and putting pressure on local governments to join the Clean Air Act (Schone Luchten Akkoord). The role of municipalities in this should not be underestimated. 
Gaining insights
One of the most obvious motivations in any citizen sensing/citizen science project is for the participants to gain pertinent knowledge. However, this conversation made clear that 'gaining insights' is a multifaceted use case. For example, in order to be able to estimate health risks, one must not only know the amount of particulate matter (abbreviated as PM, and is currently the measure taken in Hollandse Luchten), but also what kind of particulate matter and their accompanying risk factors. Participants also want to know more about the sources of air pollution. They discussed the idea of developing an interactive dashboard to enable participants to conduct analyses with the data. Existing tools, such as the Hollandse Luchten map and the Samen Analyseren tool, will form the basis of this dashboard. The data science working group is tasked with taking this further in a series of design and UX sessions to test options and step by step develop the ideal dashboard.
Transparency and accountability
Lastly, we discussed quite a contentious topic in the IJmond-region. Not everyone agrees what role Hollandse Luchten should play in holding institutions accountable. However, everyone thinks it's important that the data collected in Hollandse Luchten is of high quality: reliable, frequently collected, and covers the regions thoroughly. Everyone – from Tata Steel to RIVM to local residents – should be able to draw shared conclusions from the available data and the underlying motivations of all involved should be public knowledge. One participant reflected that all the solutions mentioned above are important in coming up with a  clear interpretation and visualisation of the data. This is a priority for Hollandse Luchten. After that, the data will be free to use for any external parties to monitor and hold each other accountable, but this is not necessarily a stated goal of Hollandse Luchten as a group. Individual sensor hosts can form a link between Hollandse Luchten and the different organisations that are active around the issue of accountability.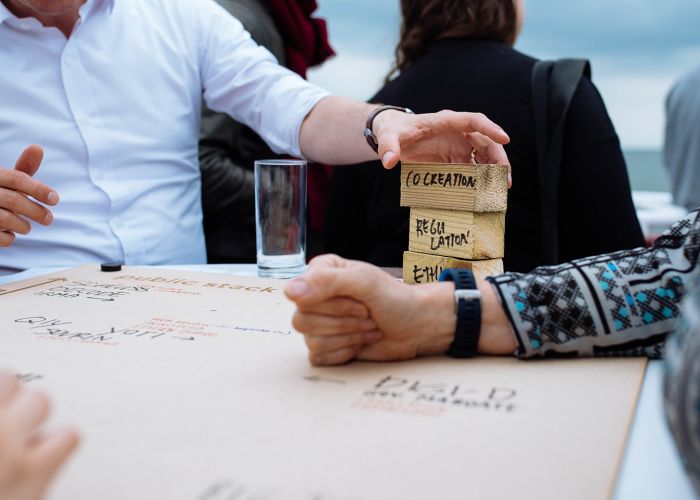 Next steps?
The session produced a variety of new ideas and potential next steps in Hollandse Luchten. Many of the partners present can directly bring this into the working groups: data science, technology, and communication & community management. However, this is not the end of the line for citizen input–we are, after all, hoping to create a more participatory democracy here. Based on the ideas proposed at different tables, we're working towards a sustainable governance structure, one in which citizens can give input into the working groups, while keeping the latter on task. Over the next few months, different working groups will host trial sessions involving participants in design and data analysis. They will then create a roadmap for policy change and define the position of Hollandse Luchten amongst existing community organisations.
A Dutch version of this blog is available here on the Hollandse Luchten site.